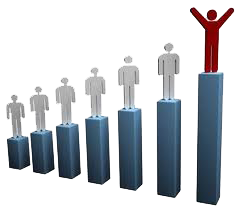 Humans are creatures of habit.
When they find something that (they think) works or that they like, they keep doing it – simply out of habit. Of course, if it's a good habit – there's no problem enjoying it. But bad habits generally lead to bad ends so you have to be very careful which habits you take up – especially in business.
If your online marketing habits aren't giving you the results you want, in terms of improved conversion rates and page rankings, it may be time to take up some new ones. We're going to outline five of the best habits you can have in order to outrank the competition.
Get active on social media.
The whole point of having an account on a social media platform is to be social. Being social means interacting with people. If you're not being social, what's the point of even having an account? Every day, make it a habit to respond to at least one posting on all the platforms your brand utilizes in their marketing campaigns. Frequent social media interaction tells your followers that you notice them and in turn, they notice you – win/win situation.
Create and post new content every single day.
It might be a blog entry, an article, a video or an infographic. It doesn't matter what kind of new content you create – so long as you do. Longer articles and blog entries, however, can be double edged swords. Wordier pieces of 2,000 words or so tend to rank better in the search results, but can be a drag to read. Keep the text well formatted, relevant, informative, timely and evergreen. Create the kind of stuff people want to read and pass on. If you wouldn't like it/read it/pass it on, don't expect anyone else to, either.
Repurpose and reuse your old content.
Even if you write only the most evergreen content for your site, links change, information becomes outdated and facts are constantly being skewed. Take an old article or blog entry and fact check it to make sure all the links work and that the information you've given is still valid. Reword it, rewrite it, change it up a bit to give it a fresh new look and pique the interest of your visitors.
Become a 'forum regular'.
The Internet is full of forums dedicated to almost any niche you can think of. Find one that suits your industry and take up residency there. Interact with other users, offer guidance and expertise on topics you know and get feedback from others. Being a frequent contributor gets you noticed and establishes you as an authority in your industry. On a side note, forums shouldn't be used for self-promotion, but it doesn't hurt to put a link to your website in your signature or your forum profile.
Keep the link wheel turning.
Having great content on your website won't do you any good unless people know it's there. Help point them in the right direction by promoting your content on your social media platforms. Tweet it, Facebook it, post it on LinkedIn – wherever you have an audience is a good platform to post it on. But remember to reciprocate the link love by passing on other people's content, too. Not only is it a nice thing to do – it makes them more likely to respond in kind by passing on yours.