Forget everything you've learned about running a successful SEO business. If you want to know the real secret to a SEO firm's success, listen to what we have to say.
The SEO industry is a volatile place and no one knows this better than SEO firms. In order for SEO firms to be successful, their clients have to be successful. This caveat is a double edged sword for SEO firms. Aside from fantastic SEO campaigns, word of mouth advertising can also make – or break – a business.
If your clients are happy, they're going to tell everyone about you. If your clients aren't happy, they're still going to tell everyone about you.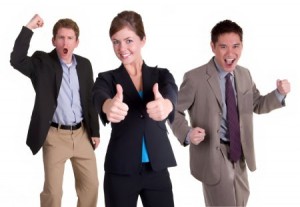 Happy clients.
That's….the secret to a successful SEO firm.
So now that you know the big secret about keeping clients happy, how do you achieve that goal?
We're going to tell you how to do that, too – in three easy steps.
Use the client's goals as both the starting point and the ending point for SEO campaigns.
Unless you know what your clients are trying to accomplish, you will never be able to satisfy them. Before doing any SEO campaign planning, take the time to find out what's important to your client and what they want the end result of their SEO efforts to be. Find out how their business works, how their traffic is responding to their current campaign and which online marketing factors have worked best (or worst) for them in the past. Having this information provides a better understanding of what your client expects from you and which SEO methods would be most beneficial to their brand. Communication is vital – remember that!
Take a multifaceted approach to your SEO campaigns.
Experienced SEO firms know that it's foolish to rely on one or two avenues for improving traffic and increasing conversion rates. Not only is it foolish, it's not (usually) what your clients are paying you to do. The Internet is a vast marketplace with billions of users – and each one of those is a potential lead for your client. To give your client the best exposure for their brand and the best ROI, tap into every available marketing channel you can find. If you bring business to your client, your client will continue bringing business to you.
Show them what they're getting for their money.
When you're consulting with a client for the first time, it's easy to persuade them to invest in your services by telling them all the fantastic things your firm can do for their brand. However, once you get a month or two down the road, your clients are going to want proof that you're delivering everything you promised them. And rightly so. Creating custom reports based on their website analytics is a great way to show your clients their ROI. However,  you have to be careful to break down the technical jargon in a way they can understand. Ultimately, the information the majority of SEO clients are going to want is 1) how many people did your firm bring to my website  and 2) how much money did I make. Be very careful though, when generating these reports. You want to be upfront, open and honest with your clients about their situation. Show them what you can fix, show them what's working and show them how committed you are to their success. The keyword here is show….very important.
The best rule of thumb you can use to keep your SEO clients happy is that all-important "Golden Rule" you learned way back in grade school.
Treat them the way you would want to be treated.
Or in this case, be the kind of SEO firm you would want to hire.