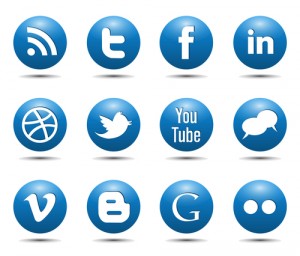 Social media is one of the powerful tools used by online marketing agencies to attract targeted audience. It has changed the landscape of marketing by allowing businesses showcase their products or services to a large number of people regardless of their location. The power of social media for small businesses and online marketing agencies offers loads of benefits. They can be used to keep your customers updated on the latest additions to your business.  Using social media for marketing purposes enables small business and companies reach out to more customers. With a strong social media marketing plan, you can tap into customers' interests only when used effectively and correctly.
The traditional method of internet marketing such as the Google Pay Per Click campaign, helps take your business closer to your target audience by ranking your sites high in search engine, but they are no longer considered highly effective in attracting potential customers. Social media does not only bring remarkable success to your business but also offers a high rate of return to your investment. If implemented properly, you will definitely get the kind of success you desire.
Facebook
Facebook is one of the most popular social media sites, allowing you connect to millions of people around the world. It is also believed to have the highest number of users. Almost everyone, including young and old, have a Facebook account. There is no better place to advertise your products or services than Facebook. With its new business page format, having a Facebook Business Fan Page can be likened to having a website of your own.
Twitter
Twitter is an effective social media marketing tool that allows people broadcast their updates and interact with other users across the world. You can follow hundreds of thousands of people with similar interests, while you expect lots of followers in return. With twitter, you can communicate directly to your customers and followers
LinkedIn
Considered a highly professional social media marketing sites, LinkedIn allows users connect with people, business and others in similar fields. You meet and interact with like-minded individuals, and advertise your business with a well-developed profile
One of the greatest benefits of social media sites is that they are free to join. Advertising your business, products or services offers you the chance to reach a large number of targeted audience anywhere in the world better than any traditional form of marketing. Whether you are saving for retirement or building a long lasting financial legacy, the best way of achieving your aim is by leveraging the power of social media.