Google has made it necessary, especially in the last 12 months to promote websites higher on their search engine results that are compliant with their on page SEO. What this means is that your website has to be spick and span in terms of everything Google has every wanted if it is going to rank. One of these factors determining your position on Google is your content marketing.
This article will explain the benefits of content marketing and how you need to start incorporating this into your SEO strategy if you expect to see some kind of ranking improvement.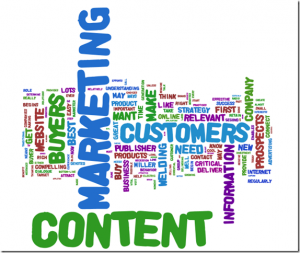 Firstly, you need to put a blog on your website. Most sites will have these but ask yourself when was the last time you published a blog. If the answer is more than a month ago, then you need to start writing content about your business, any industry news and any bits of information that are relevant to your business sector. This has to be done regularly and I want to stress a really important point here; it must be unique content. Google and it's algorithm loves to publish new content that is considered valuable. If you meet this criteria then your blog posts will be published. In turn, you will start to dominate your niche through this type of marketing. Believe me it works.
You also need to take a long hard look at your website and go through each and every page to make sure that they are not too thin on content. Each page must be over say 500 words in order to satisfy the Panda algorithmic update. If you can see that your web pages are too thin then you need to quickly beef then up with copy. This is also a ranking factor and something that Google takes very seriously. There is no way to hide or get around this as you are dealing with an abstract algorithm that is programed for one thing and one thing only; to detect well versed copy.
Another great content marketing tip is to have a look at your social media and how you publish content in this area. Social media is now considered a serious ranking signal to Google, so make sure you are actively publishing content and promoting your business on these digital marketing platforms.
If you have never done this type of thing before and you are probably shaking your head wondering how on earth are you going to start this. Well, it's simple. You just need to get along and start writing. If you feel you do not have time or inclination to do this, then I really suggest and urge you ( if SEO and your Google rankings are important to you), to get in touch with us here at Digital Presence Solutions. We can not only help with your natural SEO ranking, but  we can also do all of your content marketing.